WDC's 2021 Virtual Events
We have two virtual events this June! See the info below for more details and how to register.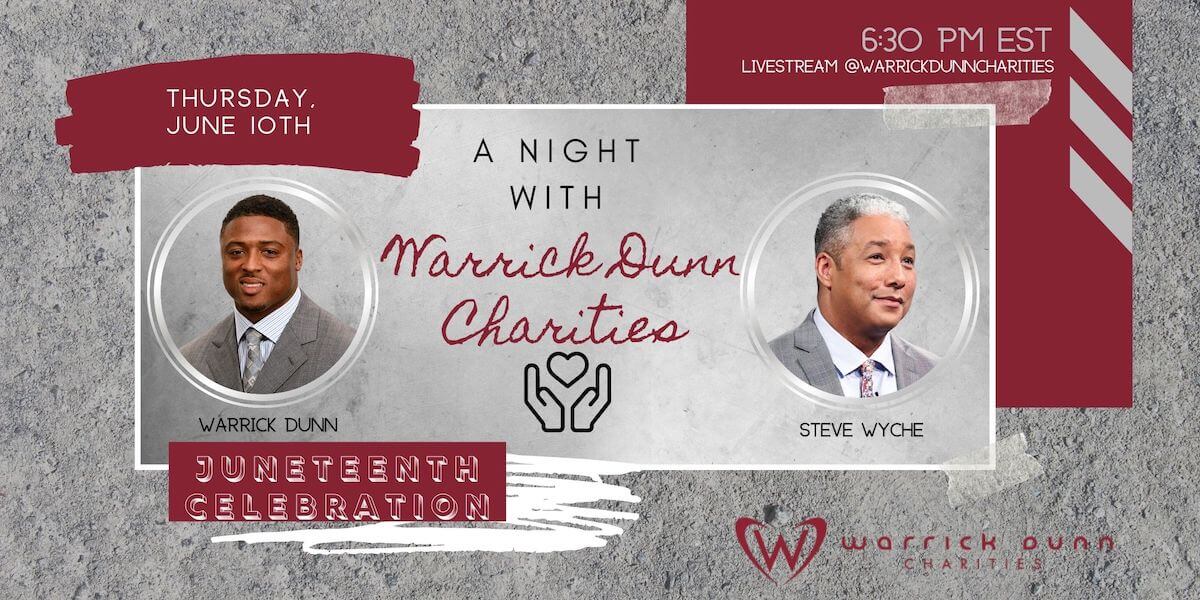 JUNETEENTH CELEBRATION A NIGHT WITH WARRICK DUNN CHARITIES
Warrick Dunn Charities presents its Juneteenth Celebration on Thursday, June 10th at 6:30 p.m. EDT. As the most prominent nationally celebrated holiday honoring the end of slavery in the United States, Juneteenth is important to WDC for its historical significance representing freedom for Black Americans, but also acts as a reminder of the continuous work that needs to be done to progress and reach
equality for all
.
This event commemorates Juneteenth through a virtual experience hosted by 3x Pro Bowler and former Tampa Bay Buccaneer Warrick Dunn and NFL Network's Steve Wyche. Joined by your favorite NFL stars, Dunn and Wyche will engage in dialogue surrounding diversity and inclusion, as well as highlighting the work WDC is doing to address the plight of under-served communities stemming from decades of oppression.
For businesses and corporations seeking deeper involvement to learn and honor Juneteenth's significance, as well as creating a more inclusive workplace culture, contact sara@8degreespr.com.
Our Juneteenth Celebration: A Night with Warrick Dunn Charities is FREE to register for corporate partners and supporters. Please visit the link below to register.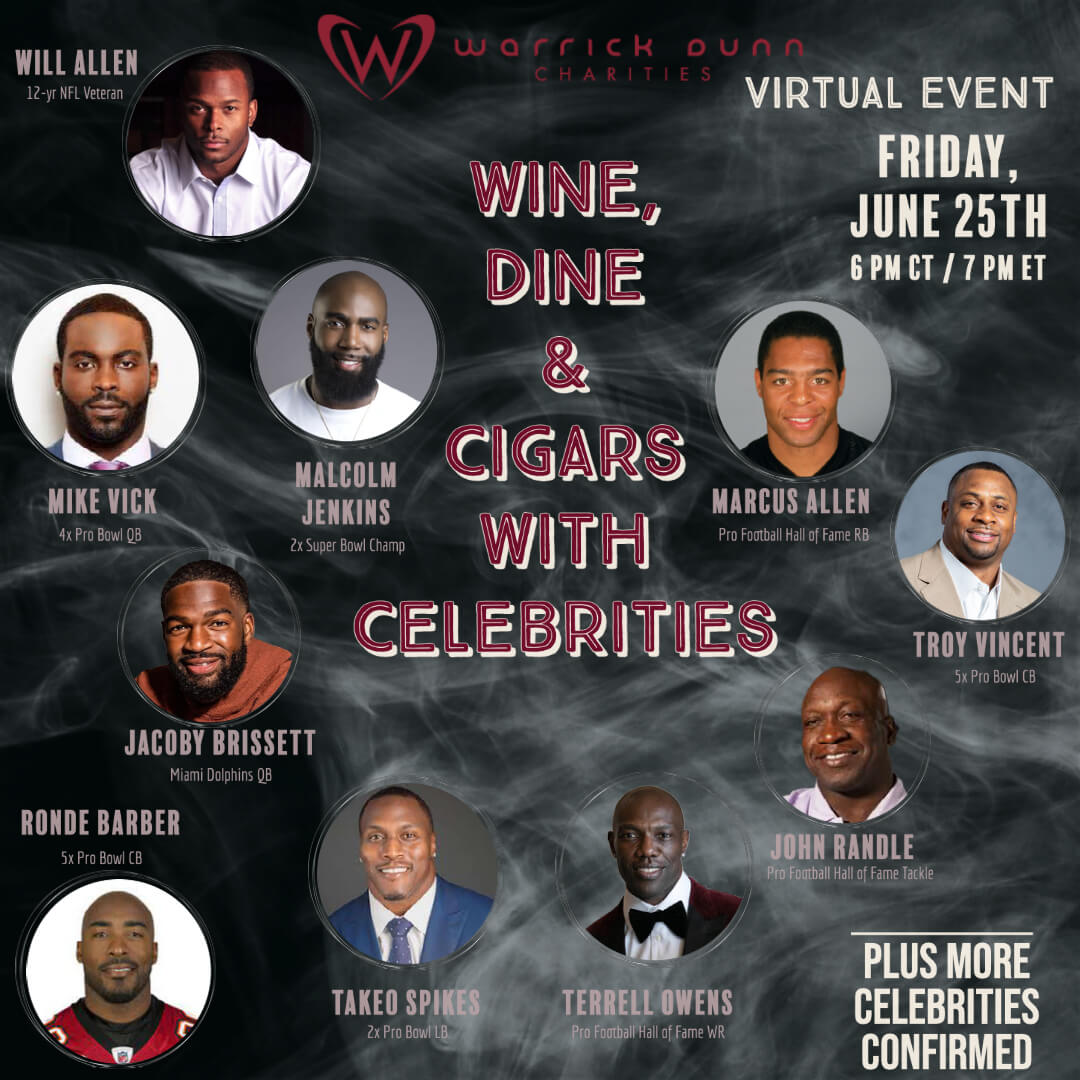 WINE, DINE & CIGARS WITH CELEBRITIES
*Please contact sara@8degreespr.com for tickets and corporate packages.

Warrick Dunn Charities is excited to announce Wine, Dine & Cigars with Celebrities on Friday, June 25th at 7:00 p.m. EDT. The pandemic has us reimagining how to transform our great events to continue bringing people together in supporting our mission of empowering families to break the cycle of generational poverty.
Through the purchase of a corporate package, your business or organization will receive tickets to attend this unique virtual event that will allow the opportunity to network with celebrities while enjoying specialty gift boxes delivered right to your door for premium tastings, as well as entertaining casino games, trivia, prizes and more.
Contact sara@8degreespr.com for more information about the variety of corporate packages available as we will assist in selecting the perfect option for your business' needs. Corporate partners who have already purchased a package prior to our Juneteenth Celebration: A Night with Warrick Dunn Charities on June 10th will automatically receive event tickets and qualify as a sponsor.
With the belief that a better future starts with hope, WDC helps single parents become homeowners through our Homes for the Holidays program which has served 189 families, including more than $875K in down payment assistance. The contribution from your organization will leave an impactful legacy in changing the lives of others by helping us reach our goal of 200 homes.
Please visit our social media pages for regular updates of confirmed celebrity guests.