In August, we had the privilege of partnering with Chef Rachel Ramsey and the KSU Cares program to provide our Frugal Chef workshop for their incoming freshman. These students were fully engaged in the workshop and not just because they got to enjoy the fruits of their labor afterward, they were eager to be an active part of the learning process and helped to make not one, but two dishes for lunch. We hope you will enjoy these recipes by our friend, Chef Rachel Ramsey, as much as the students did. Bon Appetit!

Panzanella Salad with Pickled Peaches, Tomato, and Basil
INGREDIENTS
Serves 8-10
8 Cups cubed stale crusty bread such as Ciabatta or French Baguette
Drizzle of any neutral oil
2 Cup of Pickled Peaches and Onions (Recipe Below)
8 Tomatoes, Cut into wedges
1 Cup Fresh Basil Leaves, ripped, plus extra for garnish
½ cup – ¾ cup of Dressing (Recipe Below)
Dressing
1/2 Cup Extra Virgin Olive Oil
1/4 Cup Red Wine Vinegar
2 Tablespoons Peach Pickling Liquid
2 Teaspoons Dijon Mustard
Salt & Pepper to taste
Pickled Peaches
1 can (15 oz.) Sliced Peaches
1/4 cup white or apple cider vinegar
2 Tbsp. sugar
1/2 tsp. salt
1 Small Red Onion, thinly sliced

Method
Make the pickles
Drain peach syrup into a microwave-safe glass measuring cup or a small saucepan. Add vinegar, sugar, and salt.
Set peaches and onions aside into a bowl.
Microwave on high 1-2 minutes or heat over medium-high heat just to simmering. Stir to dissolve sugar and salt.
Pour hot liquid over peaches and onion. Let stand until cool. Store covered in refrigerator for up to 3 days.
Assembling the salad
In a large bowl, gently toss the cubed bread with the oil. Season with salt and pepper.
Toast on a cookie sheet, in an oven at 400 degrees until deeply golden brown, about 10 minutes. Set aside to cool.
In a smaller bowl, whisk together the dressing ingredients.
In a large bowl add together the pickled peached and onions, tomatoes, cubed bread, and basil.
Drizzle dressing over the ingredients in the bowl and gently toss. Taste and season with salt if needed.
Arrange the salad on a large platter and garnish with the fresh basil.

Lemon Basil Linguine with Poached Chicken and Charred Broccoli
INGREDIENTS
Serves 8-10
Basil Sauce
4 cups Fresh Basil Leaves
1 cup Olive Oil Extra Virgin
1 Can of white beans, drained
Juice of 2 Lemons
Zest of 2 Lemons
1/4 teaspoon Salt or more to taste
Freshly ground pepper to taste
Poached Chicken
8 skinless, boneless chicken breasts (about 4 ½ pounds)
1 head of garlic, split crosswise
1 tablespoon Diamond Crystal or 1¾ teaspoons Morton kosher salt
Charred Broccoli
1 lb. frozen broccoli florets
2 Tbsp olive oil
1 Tsp red pepper flakes
Salt to taste
For the Pasta
2 lbs. of Linguine
1 -2 cups of Pasta Water
Fresh Basil sprigs
1 head of Smashed Garlic (From Poached Chicken Recipe)
2 Lemons Cut into Wedges to garnish

Method
Make the Charred Broccoli
Preheat the oven to 425ºF. Line a baking sheet with parchment paper. Spread the frozen florets out over the baking sheet.
Toss the florets in the oil and seasoning until everything is evenly distributed.
Transfer the baking sheet to the oven and roast for 20 minutes.
Using a spatula, stir the broccoli and redistribute the oil and spices.
Return to the oven and roast for another 10 -15 minutes, until the broccoli develops the amount of brownness desired. Set aside but keep warm.
Make the Basil Sauce
Blend all the ingredients together in a blender until smooth. Set aside.
Make the Poached Chicken
Bring chicken, garlic, salt, and 10 cups water to a bare simmer in a medium pot over medium heat. (It will take some time for the liquid to come to a simmer…be patient. If you rush it, the chicken will be tough.)
Once liquid begins to simmer, reduce heat to low and cook until juices run clear when thickest part of chicken is pierced, 10–12 minutes.
Transfer chicken and garlic to a cutting board and let cool slightly.
Smash the garlic using the side of a chef's knife and reserve.
Once cooled, cut chicken crosswise into thin slices or shred with two forks.
Making the Final Pasta
Bring the chicken poaching liquid back to a boil.
Add the pasta and cook for 9-10 minutes until the pasta is al dente.
While the pasta cooks, mix the basil sauce and the reserved smashed garlic in a large bowl.
Reserve 2 cups of pasta water & Drain pasta.
Add cooked pasta to Basil Sauce and stir.
Add in the reserved pasta water, ½ cup at a time. Until you achieve a creamy, silky sauce.
Finally add in poached chicken and charred broccoli. Mix well.
Serve Pasta on a large plate and garnish with fresh basil, lemon wedges and a few broccoli florets.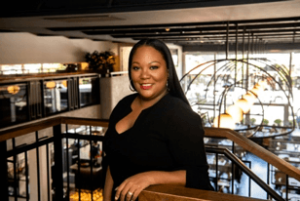 About the Chef
Rachel Ramsey is the owner of Measured HR, a consulting group designed for small businesses on the cusp of growth. Her passion for food & the Restaurant industry was realized, here in the city of Atlanta and she never looked back.
With over 15 years' experience as an Exec Chef, GM, and HR Director, Rachel understands the restaurant business from every angle. Throughout her tenure, she has worked for companies such as Sodexo, Major Food Group, and Union Square Hospitality Group and has won national awards for her D&I initiatives.
Rachel has always been committed to employees and their voices. Measured HR's primary mission is help business owners define their people strategy. To Rachel, people are the most important commodity in business & her company is dedicated to building healthy, diverse teams.