Many young children dream of being rich when they grow up. They want everything that money can buy, but do they understand what it takes to earn an income or create wealth? And what exactly is wealth? Wealth is commonly defined as assets minus liabilities, but in today's society, many people view wealth as simply having a lot of money or financial resources.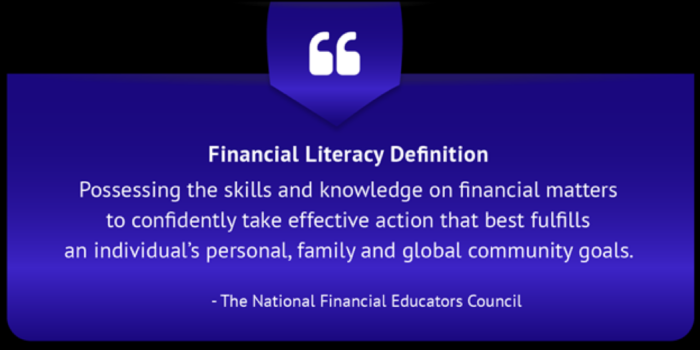 It is essential to teach our youth the responsibilities related to wealth. Financial literacy helps create a foundation for students to adopt strong money habits early in life and avoid many mistakes that can lead to a lifetime of money struggles. Studies have shown that providing financial literacy helps young people to avoid payday loans, have better credit, reduce private student loan balances, and minimize credit card debt.
We've all seen the popular videos where people ask children questions and the children have the most interesting and creative responses. Let's do an informal test by asking a child that you know these basic questions, and seeing what answers they come up with.
What is credit?
How do you get a loan?
What does saving mean?
How do you open a bank account?
Based on the responses you received, you probably learned a lot about what they don't know, or have only observed from the adults and environment around them.
These questions open the door for you as a parent or caregiver to help empower and educate your children to learn more about money so they have a greater understanding of personal finance as they grow up. Think of it this way, math is commonly taught in school and something that you pretty regularly use in your everyday life. Math is also an important component to understanding money and how to value it. It helps you build a budget and manage your expenses. It can also help in better understanding how money can work harder and grow through things like investments.
At Warrick Dunn Charities, Inc. (WDC) we recognize that financial literacy is important to everyone. Seven years ago we created our Count on Your Future program to teach families how to achieve economic empowerment. We truly believe that the sooner you learn these important foundational personal finance concepts, the more likely you are to achieve success.
For kids, this is especially important. As children get older, approach adulthood, and begin managing their own money, having the foundational understanding of how to make good financial decisions is critical to their future financial success. Over the past two years we have expanded our traditional adult workshops to include financial literacy workshops for teens through a partnership with Usher's New Look. As mentioned earlier, evidence supports the need to provide learning opportunities that provide useful educational resources, interactive experiences, and understanding to set youth up for future success.
And Warrick Dunn Charities, we don't stop there. We incentivize our teen and adult participants to invest in their future financial goals by providing seed and matching funds that are deposited into an IDA (Individual Development Account) savings account. Imagine if someone came to you as a teen and said, let me help you learn more about money and we want to invest in you so that you can have a solid financial foundation for your future? Wow, just WOW! That would be life changing!
How did WDC determine this was so important? The story of our Founder's life journey inspires our organization to empower families to break cycles of generational poverty and to achieve a better quality of life for all. This includes equipping families, youth and adults, with the tools needed to learn how to make better financial decisions and ultimately take control of their financial futures.
To learn more about how Warrick Dunn Charities educates and empowers families through our Count on Your Future program, please visit our website at https://wdc.org/count-on-your-future/.

About the Authors
This blog was a collaborative product between our Georgia State University MSW Intern, Ms. Natasha Dailey, and our Program Manager, Ms. Nancy Mulholland.




Natasha joined WDC in the fall of 2020 to complete her field placement and has played a vital role in the development and execution of our programs. She will matriculate from GSU in May 2021.

Nancy serves as the Program Manager for Warrick Dunn Charities, Inc. In her role as Program Manager, she strives to learn and grow both personally and professionally and to bring valuable content and information to our participants and the community at-large.