We have a lot of options when it comes to expressing our emotions. We can take that breakup, those feelings of inadequacy, that rage, or those fears of failure to our friends, family members, spiritual leaders, or to a therapist. You may wonder, why is a therapist a good idea if I have my mama, my bestie, and the alter?? They all know me so well! The answer is: because a therapist doesn't know you well. A therapist will give you an objective non-judgmental space to express yourself without inserting him or herself in to your story. The weight of one's job stressors, relationships, being a parent, combined with continual messages about the pandemic and social injustice can be enormous. Share that weight with someone who is willing to carry it with you.
Mental health professionals have a saying that if you are considering going to a therapist, it is time to go to a therapist! The stigma surrounding therapy attendance, especially in some communities, can be a deterrent. However, more and more people are embracing the notion of psychotherapy. Finding and deciding on a therapist can feel like a daunting task. You may already be struggling with trusting others, feeling awkward about sharing your personal information or maybe you have had less than fruitful therapeutic interactions in the past. Though there is no guarantee you will find a perfect fit early in your search, there are some things you can do to increase the likelihood of matching with a therapist quickly. Some suggestions include:

Visit therapist websites like PsychologyToday.com and sites for particular populations like TherapyForBlackGirls.com are great starts to begin your search.
Get to know your therapist a bit prior to making an appointment. Ask for a 5 minute consultation and get a feel for her or him before coming in to the office. Sometimes a quick phone call might save time and money!
Remember that relationships are reciprocal, ask for what you are looking for right up front, if you don't know, that's ok to say too! Therapy is the place to lay it all out on the table. Don't be afraid to tell your therapist what you aim to achieve during your time together, so you can get started on your goals right away.

Though professional help is almost always a good idea, it is not suggested as a replacement for a good social support network. As the song says, people need people. We just have to create a community of the right people. We all need a person in front of whom we can cry, and I mean ugly cry. The nonjudgement friend who does not flinch when you unveil the skeletons in your closet. The humorous friend who makes you laugh at just the right moment to let you know that no problem is insurmountable. These qualities may exist in separate people or all within the same person, but they need to exist outside of you. If making and maintaining solid friendships is a challenge, that can be a goal on which to work with your therapist. But the support team in your real life is necessary!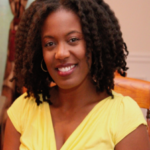 Dr. Kanika Bell is a licensed psychologist, specializing in clinical and forensic psychology, in the Atlanta area. She received her undergraduate degree in psychology from Spelman College and received her Masters and Doctoral degrees in clinical psychology from Auburn University. She is co-owner of A.T.L. Psychotherapy and Consulting Services, LLC in Atlanta, GA where she provides therapy to children, adults, couples and families. She is also an Associate Professor in the Department of Psychology at Clark Atlanta University. Dr. Bell's passion is assisting clients and students in recognizing and maximizing their greatness. Her most recent project is a co-edited volume entitled Black Women's Mental Health: Balancing Strength and Vulnerability and is currently working on an additional volume focusing on the particular mental health needs of Women of Color.