Holiday season is upon us! Celebrating special occasions with family and friends are usually associated with traditional foods. Navigating these meals can be tricky and a little stressful while trying to follow a healthy lifestyle. Hopefully the tips below will help you make those healthy choices and still eat a delicious meal. If you are able to cook some of the main dishes, it will put you in control of the ingredients used and limit the amount of saturated fats and added sugars.
Simple food swaps to promote healthier meals:
Turkey – Roast the turkey in the oven or make it in a crockpot. Remove the skin on your portion and avoid/limit gravy to 1 Tbsp.
Sweet potatoes – Instead of a sweet potato casserole, roast diced sweet potatoes with cinnamon, nutmeg, and pecan halves.
Stuffing – Add vegetables like onions, celery or carrots to the dish. Cook with vegetable oil instead of butter.
Cranberry sauce – Swap the jellied cranberry sauce that is high in sugar for this easy homemade cranberry sauce (see link)
Include sides like collard greens, turnip greens, and kale salad to increase your non-starchy vegetable intake.
Skip the rolls.
Limit dessert to 2-3 bites or a small post-it note size.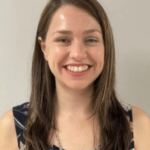 About the Author
Meagan Barry joined the Atlanta Bariatrics team in January 2021. She received her Bachelor of Science Degree in Nutrition from Georgia Southern University and completed her dietetic internship at Lenoir Rhyne University. For five years, Meagan worked in the hospital system, covering medical and oncology units and outpatient counseling. In February 2021, she became a Board Certified Specialist in Oncology Nutrition. Meagan is passionate about assisting patients in reaching their nutrition goals. In her spare time, she enjoys baking, crafting, reading, and exploring the Atlanta area with her husband and their two dogs.