When purchasing a home, it is important to understand your credit. As you embark on the home buying journey, there are a few components of your finances that you need to understand. In addition to your debt-to-income ratio, it is very important that you understand your credit. A credit score tells lenders how likely you are to pay back the money borrowed. Your credit score, a number typically between 300-850, influences the amount of credit and the terms (ie interest rate) that a person is offered. Understanding the factors that comprise your credit score is critical. Your credit score is made up of the following:
Payment History-35%
Amount Owed-35%
Length of Credit-15%
New Credit-10%
Type of Credit-10%
Now that you have a better understanding of what is factored into your credit score, below are some tips on how to improve your score:
Pay bills on time.
A paid off collection account stays on your credit report for seven years.
Keep credit card balance low, available credit improves the score.
Paying off debt; possibly consolidating debts to fewer accounts.
Credit inquiries do affect the credit score.
Open new accounts only when needed.
Credit managed responsibly is lower risk than no credit.
You can also use the following link: www.AnnualCreditreport.com to learn more about credit and for additional resources. The best place to start is by requesting a copy of your credit report and carefully reviewing the information to ensure it's correct. Federal law allows you to access your report for free every 12 months. Now, due to the pandemic, you can even access your credit report weekly.
As a potential new buyer, use the resources in this article to make sure you understand your credit. When buying a home, your credit score plays a major role in your buying power and interest rate. If you have any questions on where to start, please reach out to me.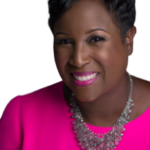 Tianna Bailey | Realtor at PalmerHouse Properties
770.714.3467 |

[email protected]




Tianna Bailey serves as a Realtor in Georgia who specializes in the metro Atlanta and surrounding suburban areas. Her clients often praise her patience, persistence, and positive attitude. Tianna is active in the Atlanta community, where she worked as a community servant for the Edgewood Community through the creation of child and parental development programs. A native Atlantan, she graduated from Southside Comprehensive High (now known as Maynard H. Jackson High School). Tianna attended Emory University as a Martin Luther King Scholar, graduating with a B.A in Educational Studies and M.A. in Educational Studies. She enjoys going to the beach, spending time with her family, and simply making dreams come true. She resides in Decatur, Georgia with her husband and two sons, Charlie and Cameron.